We're Getting Mutants in the MCU - The Loop
Play Sound
Resident Alien is a Syfy television series that premiered on January 27, 2021. The show is based on the Dark Horse comic book series of the same name.
The series focuses on the adventures of Harry Vanderspeigle, an alien who has crash-landed on Earth and is forced to pass himself off as a small-town doctor.
On March 17, 2021, the series was renewed for a second season.[2]
On July 22, 2022, the series was renewed for a third season, announced to have 12 episodes.[3]
Premise
[
]
Official description on Syfy.com:
Based on the Dark Horse comic, SYFY's RESIDENT ALIEN follows Harry, an alien played by Alan Tudyk ("Rogue One," "Firefly") that crash lands on Earth and passes himself off as a small-town human doctor. Arriving with a secret mission, Harry starts off living a simple life... but things get a bit rocky when he's roped into solving a local murder and realizes he needs to assimilate into his new world. As he does so, he begins to wrestle with the moral dilemma of his mission and asking the big life questions like: "Are human beings worth saving?" and "Why do they fold their pizza before eating it?"
Cast and characters
[
]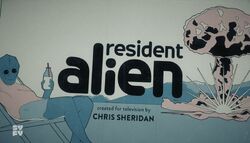 Starring:
Recurring co-stars:
Seasons and episodes
[
]
Music
[
]
The show's theme is "Bilgewater" by the band Brown Bird. The band was initially a solo project of artist David Lamb and later consisted of Lamb and his wife MorganEve Swain but disbanded following Lamb's death from Leukemia. Resident Alien has helped to bring new attention to the band's music, though the show's intro sequence noramally only uses an instrumental of the song "Bilgewater." Vocals, however, can be heard in the intro sequence in the show's pilot episode. Show creator Chris Sheridan stated that he discovered the song while searching Spotify for music by artists he had never heard before.[4] Besides "Bilgewater," Resident Alien has also featured songs such as "Starships" by Nicki Minaj, "Boujee Natives" by the First Nations hip-hop band Snotty Nose Rez Kids and "Where Everybody Knows Your Name," the theme of Cheers. The series additionally features original music by Noah Sorota, whose other credits include Tommy, Falling Skies and Reverie. A playlist of the songs featured on the series was released on Spotify, though as of February 21, 2022 it contains only music from the program's first season. However, a second playlist, unofficially released by a fan, mirrors that of Syfy's while also including the songs from the second season.
Development
[
]
Prior to the initial pilot order, Dark Horse tried to market the franchise as either a television series or movie from its beginning in 2011. The series was then in development hell for years, author Peter Hogan having had conversations with various parties on-and-off for years.[5] On May 31, 2018, Syfy ordered a pilot episode.[6] Production began on October 1, 2018, with Alan Tudyk starring as Harry.[7] It was ordered to series in February 2019, with production to begin in summer 2019.[8] Mayor Ben Hawthorne actor Levi Fiehler stated that the length of the show's development due to the delays caused by the COVID-19 pandemic meant that the cast came to bond in a way rarely seen with any other series.[9] Regarding the show's content, showrunner Chris Sheridan stated "I tried to have two different storylines going through the show. One is the alien story of Harry coming down and wanting to kill everybody with his device. The other one is the town story. [I asked] 'What would the show be if the alien never showed up?' In the town story, I wanted that to be compelling enough and filled with enough three-dimensional characters that it takes a lot of the pressure off the sci-fi element and alien element."[10] Chris Sheridan initially pitched the series for the USA Network, however, USA is ultimately under the same banner of NBC Universal that Syfy is.[11]
Visual effects for the series were created by the Vancouver visual effects studio Artifex, who delivered a total of 685 shots for the series. Amongst the company's work was the extensive glacier scenes in "End of the World As We Know It," the creation of the CGI octopus in "The Green Glow" and transforming a daylight scene into night for the first season finale "Heroes of Patience."[12]
Release
[
]
The pilot was screened at New York Comic Con on October 4, 2019.[13] It was anticipated for broadcast release on the Syfy channel in 2020, but was delayed due to the COVID-19 pandemic halting production. The series premiered on the Syfy channel on January 27, 2021 in the 10-11 eastern time timeslot.[14] Syfy made the first four episodes of the series available on its official website and streaming app to stream regardless of a cable/satellite subscription for a limited time, however, beginning with the fifth episode, visitors were required to sign in with a provider in order to watch. The first two episodes were also posted free to watch for a time on YouTube free of commercials, but were eventually removed. As of March 12, 2021, the first three episodes of the series are available on the streaming service Peacock, with new episodes added weekly. Additionally, all episodes are now available to purchase on YouTube and Amazon, either on an individual basis or for the complete first season. As of the second season, new episodes are released on Peacock the day after their premiere on Syfy.
Reception
[
]
As of March 15, 2021, Resident Alien holds a rating of 93% fresh on the review aggregator website Rotten Tomatoes, with 29 reviews, 27 of them fresh. The site's Critics Consensus feature states that "Resident Alien takes a minute to settle into its skin, but once it does it finds fresh humor in a familiar framework and proves a perfect showcase for Alan Tudyk's singular comedic skills."[15] Ratings for the series have been said to be on a modest scale, but enough to gladden representatives at NBCUniversal. Jeff Bader, an NBCUniversal executive stated that "We launch shows all the time and we want to pretend that every show can be the next big hit. But it's actually rare that you have a show that people seem to respond to ... and this is one of those shows."[16] Syfy revealed that the show's pilot episode saw a total of over 9 million viewers across all platforms, with the second episode seeing an uptick of 581,000 audience members, the greatest for a cable drama launch since 2014. Lisa Katz, president of Syfy's scripted content, stated that "With Resident Alien, everything just came together in perfect harmony" and that "The appeal of this show transcended the sci-fi genre in a way that enabled us to bring in a broader audience..."[17] The series has been described as a "hit original show" for Syfy, something somewhat unusual for a cable network in a period in which audiences have largely turned towards streaming media services and is considered "vindication of the network's effort to get further into original programming." It has also been life-changing for its lead actor, Alan Tudyk, who was previously known for supporting roles.[18]
Trivia
[
]
The initial description of the series relocated the town of Patience from Washington to Colorado. The description was later changed back to Washington. It was finally back to Colorado in the season preview clip.
Taglines for the series include "(He's a human.) Because he couldn't possibly be an alien. That would be crazy, right? Right?!", "When this alien lands on Earth, you'll hear about it. And laugh. And cry. But mostly just laugh." and "The Sci-Fi Murder Mystery Doctor Dramedy Earth Needs Now."
In addition to Syfy, Resident Alien began airing simultaneously on USA Network, also owned by NBC Universal, beginning February 1, 2021.
Beginning with the program's second season, episodes are released on the streaming service Peacock the day after broadcast. Additionally, the program's entire first season was made available on Peacock.
Gallery
[
]
Images
[
]
Videos
[
]
External links
[
]
References
[
]
↑ Variety: 'Resident Alien' Renewed for Season 2 at Syfy by Joe Otterson. March 17, 2021.
↑ Deadline: 'Resident Alien' Gets Early Season 3 Renewal By Syfy by Nellie Andreeva. July 21, 2022.
↑ The Providence Journal: Brown Bird's music lives on in Syfy series 'Resident Alien' by Rob Duguay. March 11, 2021.
↑ Syfy Wire: Resident Alien Co-creator Peter Hogan is Enjoying His Not-so-Overnight Success by Mike Avila. December 31, 2020.
↑ Variety: Syfy Orders 'Resident Alien' Series Adaptation to Pilot by Joe Otterson. May 31, 2018.
↑ The Province: Hollywood North: Jordan Peele brings Twilight Zone to Vancouver by Scott Brown. October 3, 2018.
↑ Hollywood Reporter: 'Resident Alien' Drama Picked Up to Series at Syfy (Exclusive). February 28, 2019.
↑ The Workprint: Resident Alien Interview: Corey Reynolds and Levi Fiehler Chat Favorite Things About Season 1. April 5, 2021.
↑ Syfy Wire: Resident Alien: Alan Tudyk Gets Fans Pumped for Season 2 in Special Post-Finale Video by Josh Weiss. April 1, 2021.
↑ YouTube - "Resident Alien Creator Chris Sheridan on Writing Season 2 and How Episode 8 is a Mini-Finale"
↑ Animation Magazine: Artifex Gets Their VFX Tentacles on SYFY's 'Resident Alien' by Mercedes Milligan. April 9, 2021.
↑ The Futon Critic: Resident Alien December 26, 2020.
↑ Rotten Tomatoes - Resident Alien. January 31, 2021.
↑ Syfy's 'Resident Alien' invader gets lift-off with viewers by Lynn Elber. February 22, 2021.
↑ Earth to Tudyk! SYFY Renews Resident Alien For a Second Season by Josh Weiss. March 17, 2021.
↑ SyFy's Big Hearted Resident Alien by Jon Jackson. March 23, 2021.