Resident Alien is a Syfy television series based on the Dark Horse comic book series of the same name.
The series premiered on January 27, 2021. It was initially set to premiere in the summer of 2020, but was delayed due to the COVID-19 pandemic halting production.
The series focuses on the adventures of Harry Vanderspeigle, an alien who has crash-landed on Earth and is forced to pass himself off as a small-town doctor.
Official description on Syfy.com:
Based on the Dark Horse comic, SYFY's RESIDENT ALIEN follows Harry, an alien played by Alan Tudyk ("Rogue One," "Firefly") that crash lands on Earth and passes himself off as a small-town human doctor. Arriving with a secret mission, Harry starts off living a simple life... but things get a bit rocky when he's roped into solving a local murder and realizes he needs to assimilate into his new world. As he does so, he begins to wrestle with the moral dilemma of his mission and asking the big life questions like: "Are human beings worth saving?" and "Why do they fold their pizza before eating it?"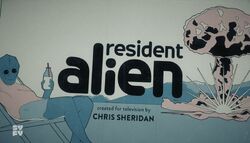 Starring:
Recurring co-stars:
#
Title
Writer
Director
First aired
1
Pilot
Chris Sheridan
David Dobkin
January 27, 2021
2
Homesick
Chris Sheridan
Robert Duncan McNeill
February 3, 2021
3
Secrets
Njeri Brown
Robert Duncan McNeill
February 10, 2021
(streaming February 4)
4
Birds of a Feather
Tazbah Chavez
Jay Chandrasekhar
February 17, 2021
5
Love Language
tba
tba
February 24, 2021
6
Sexy Beast
Emily Eslami, Jeffrey Nieves
Jennifer Phang
March 3, 2021
7
The Green Glow
tba
Jennifer Phang
tba
Prior to the initial pilot order, Dark Horse tried to market the franchise as either a television series or movie from its beginning in 2011. The series was then in development hell for years, author Peter Hogan having had conversations with various parties on-and-off for years.[2] On May 31, 2018, Syfy ordered a pilot episode.[3] Production began on October 1, 2018, with Alan Tudyk starring as Harry.[4] It was ordered to series in February 2019, with production to begin in summer 2019.[5]
The pilot was screened at New York Comic Con on October 4, 2019.[6] It was anticipated for broadcast release on the Syfy channel in 2020, but was delayed due to the COVID-19 pandemic halting production. The series premiered on the Syfy channel on January 27, 2021 in the 10-11 eastern time timeslot.[7] Syfy made the first four episodes of the series available on its official website and streaming app to stream regardless of a cable/satellite subscription, however, beginning with the fifth episode, visitors were required to sign in with a provider in order to watch. The first two episodes were also posted free to watch for a time on YouTube free of commercials, but were eventually removed.
As of January 31, 2021, Resident Alien holds a rating of 96% fresh on the review aggregator website Rotten Tomatoes, with 24 reviews, 23 of them fresh. The site's Critics Consensus feature states that "Resident Alien takes a minute to settle into its skin, but once it does it finds fresh humor in a familiar framework and proves a perfect showcase for Alan Tudyk's singular comedic skills."[8] Ratings for the series have been said to be on a modest scale, but enough to gladden representatives at NBCUniversal. Jeff Bader, an NBCUniversal executive stated that "We launch shows all the time and we want to pretend that every show can be the next big hit. But it's actually rare that you have a show that people seem to respond to ... and this is one of those shows."[9]
The initial description of the series relocated the town of Patience from Washington to Colorado. The description was later changed back to Washington. It was finally back to Colorado in the season preview clip.
Taglines for the series include "(He's a human.) Because he couldn't possibly be an alien. That would be crazy, right? Right?!", "When this alien lands on Earth, you'll hear about it. And laugh. And cry. But mostly just laugh." and "The Sci-Fi Murder Mystery Doctor Dramedy Earth Needs Now."
In addition to Syfy, Resident Alien began airing simultaneously on USA Network, also owned by NBC Universal, beginning February 1, 2021.
Community content is available under
CC-BY-SA
unless otherwise noted.